The 9th Annual
Morganzo 55: Double Nickels on the Grime
Get your name on the email newsletter list.  We only send out one or two messages per year so just go ahead and do it.
The 9th annual running of the Morganzo 55 will be a bit different this year because pretty much EVERYTHING is different in 2020. Rather than the normal 'mass start' where every one gathers at 8am and heads off to ride together we'll do things with a careful nod to the situation created by the nasty COVID-19 pandemic. In other words, there will be no "in person" Morganzo 55 this year.
So instead of meeting in person this weekend, anyone wishing to participate in the Morganzo should head out to the corner of Dry Creek Road and Theisen Roads just north of Belgrade, MT at their convenience and, using the GPS device of choice record their ride and post it online to one of the many GPS-sharing websites such as Strava, GPSmyRide, et al. If you wish to have your results posted alongside others on the website send an email to info@morganzo55.com with a link to your GPS post and we'll compile the results this summer after folks have had a chance to get out and ride.
Morganzo 55: Double Nickels on the Grime - Ride fifty-five miles, entirely self-supported, of gravel and dirt in the rolling foothills of the breathtaking Bridger Mountain Range outside of Bozeman, Montana.
Please sign up for the Newsletter to receive infrequent email leading up to the event.  Participants are to meet at the corner of Dry Creek Road and Theisen Roads just north of Belgrade, MT. First one done gets first crack at the beer. It would be awesome if you brought beer to share.
NOTE: This is an unsupported ride. The only water is around mile 42. The only food or tools are what you bring with you. You'll probably want a bike computer to follow the route on the cue card because none of the turns are marked.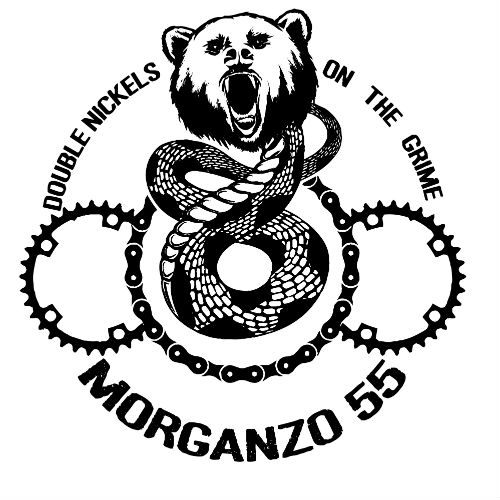 This is a great local or destination event, and for those traveling it can easily be connected with a trip to historic Yellowstone National Park just ninety miles to the South.
Started in 2012 by a humble cyclist looking to continue the tradition of the grassroots gravel races of his Midwest roots this all-gravel route in rural SW Montana is sure to please everyone from beginner to diehard.